Enjoy the best Snorkeling in Cancun. Come and enjoy the best Snorkeling Tour in Cancun with the best spots to see marine life. With our Cancun Snorkeling Tour you will have the best and warmest attention from our english speaking guides.
You'll have complete and professional snorkeling gear and comfortable, clean and updated boats. With our Cancun Snorkeling tour you will not only enjoy snorkeling, but a great beach club with the best of the private beaches in the area.
A couple of things to remember about our Cancun Snorkeling Tour:
$55 USD per person.
Transportation is included.
Snorkeling Gear is included.
Cancun Snorkeling Gallery
Cancun is definitely a travel destination where you can enjoy the nature at its best. Sure there are lots of top class resorts and beautiful restaurants and trendy shops you can check out and that's totally ok, but it's all surrounded by nature.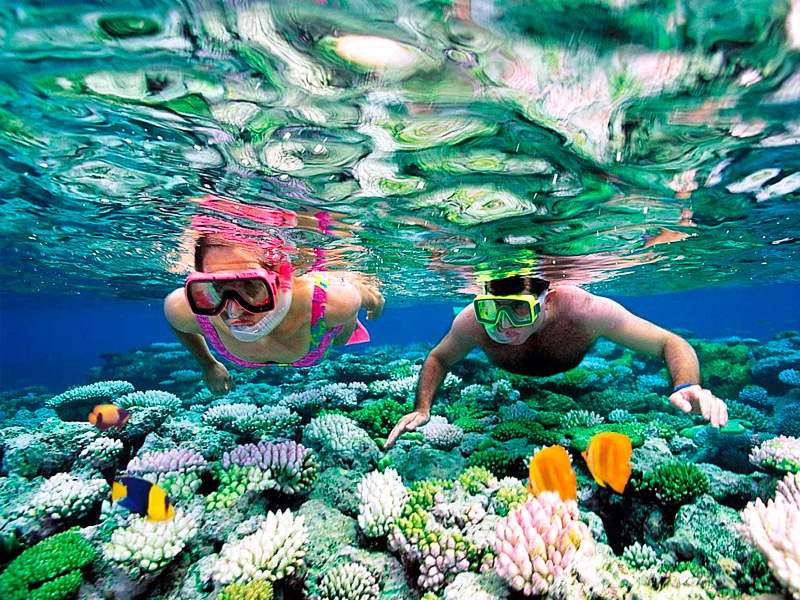 One of the best things you can do with this nature is to get to know it and what better thing to know it than Snorkeling in Cancun. In order to go Cancun Snorkeling you need to know where the nice spots are, and in most cases you'll need a tour to get to the place you want to get to.
Also, the reason I say that snorkeling is a great option is because you don't really need to be an expert in order to do it, like probably diving where you need a whole course to learn how to do it.
So now said that, let's talk about the places you can go Snorkeling in Cancun.
Snorkeling in Puerto Morelos.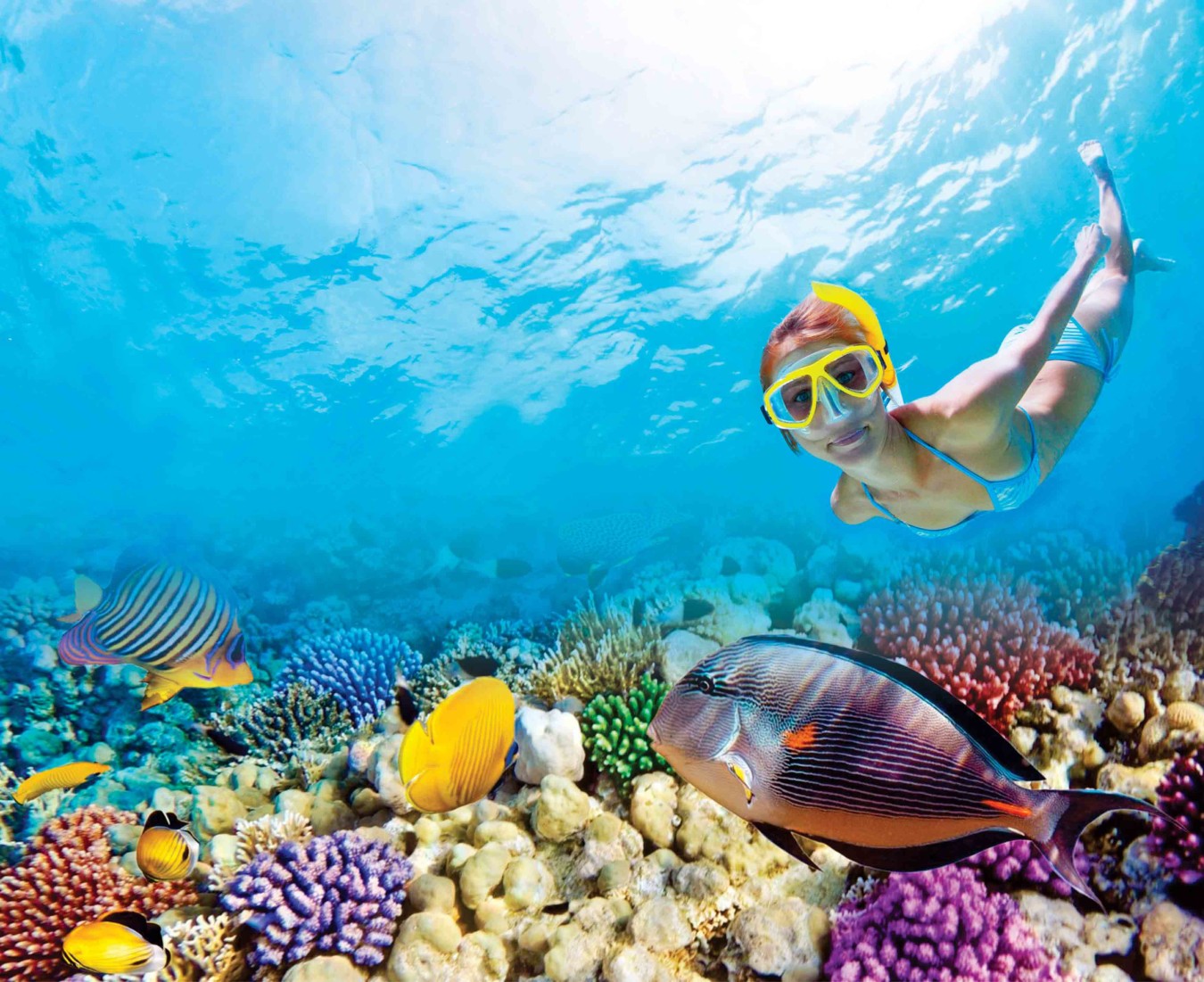 Well, not only for that, Puerto Morelos is really close to Cancun and it's known as the entrance to the Riviera Maya, by close we mean only about 20 minutes by car, of course always depending on traffic conditions. Snorkeling in Puerto Morelos is amazing because you'll see a lot of marine life and lots of colors in the coral reef, all of this because Puerto Morelos has a National Marina Protected Park and fishing and motor sports are not allowed in a big area.
If you are lucky you'll see some turtles, rays, nurse sharks, which are not dangerous at all, lots of parrot fish and more.
Puerto Morelos is really nice, it used to be a fisherman town and now is more like a tourist town still keeping its local sensation.
Puerto Morelos is actually the place where the Riviera Maya Snorkeling takes place and it's about 30 minutes from Cancun and 30 minutes from Playa del Carmen, right in between.
Snorkeling in Isla Mujeres.
Isla Mujeres is another great place to go snorkeling and is also really close to Cancun, it will take about the same amount of time to get there but on a ferry, it's about 20 minutes.
In order to go Snorkeling in Isla Mujeres you can either take the ferry to the island and book a tour on-site with or you can book a tour from your hotel in Cancun and ship away from Cancun itself.
Nizuc.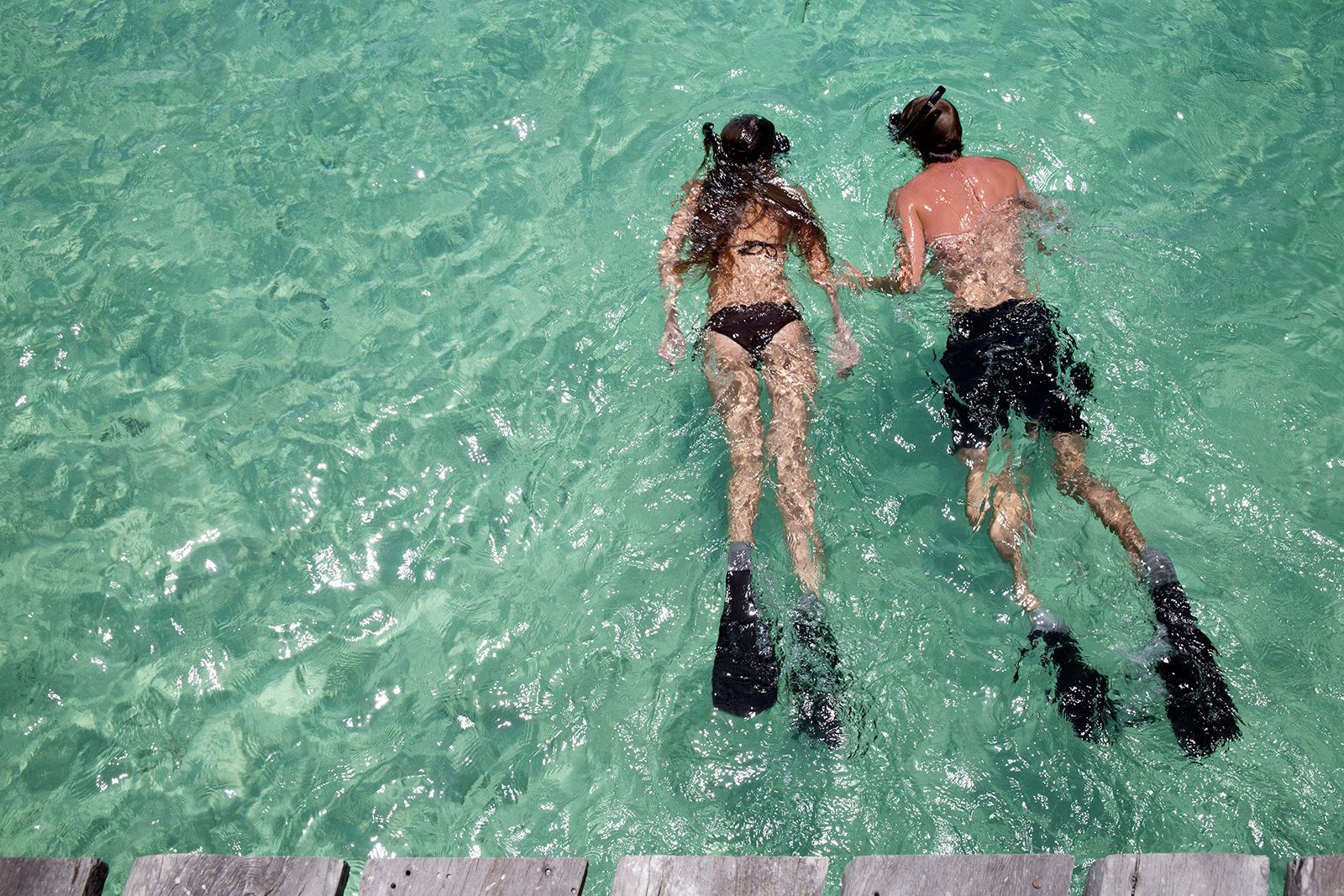 This is one end of the Cancun Hotel Zone and there is a hotel actually named like this. Right next to this hotel there is a place where you can go by yourself and go snorkeling from the shore, the area is kind of rocky but this makes it more interesting since you can probably see lobsters, small octopus and other sea creatures.
There are more places you can go Snorkeling in the Riviera Maya, for that you should read your options on our post: Playa del Carmen Snorkeling
You can go Snorkeling in Cancun from these hotels:
[pt_view id="7acdfdfa8o"]
Cancun Snorkeling
Average rating:
6 reviews
May 26, 2021
Great experience Snorkeling in Cancun
This is an excellent place to go snorkeling, we were looking to go snorkeling in Cancun and we found this, this is really close to Cancun, only 20 minutes with the transportation they provide. We just went last week and had a wonderful time, we saw lots of fishes and beautiful corals with lots of colors. The food was great and the beach club is really nice to relax. We met people that wanted to go snorkeling in Playa del Carmen and also found Riviera Maya Snorkeling online. Totally recommended.
May 26, 2021
Brilliant time
Absolutely brilliant time , all the family enjoyed the marine life, reef formations and the ride.

The day was made fantastic by guide ticho he was so funny and interacted with all the kids in his group
May 26, 2021
Awesome snorkeling
What a great experience! Thank you Riviera Maya Snorkeling for this great day - I will never forget about it! The team was super friendly and we received the snorkeling gear and life jackets. Our plan was to see the second largest coral reef in the world because we heard it should be in this area and we were not disappointed! It was more than worth it! My friends and I saw many different beautiful fish in the turquoise water. In addition to that a family of manta rays passed by and we even were lucky to see a turtle.
May 26, 2021
Wanted to snorkel in Cancun
Excellent activity, fair prices and a fantastic experience while diving in the second largest barrier reef in the world.

The service is very good, this tour is highly recommended.
May 26, 2021
Mejor snorkel
He tenido la oportunidad de realizar snorkel en varios lugares, y sin lugar a dudas Puerto Morelos es de los mejores lugares para hacerlo, lo recomiendo!
May 26, 2021
Tour de snorkeling
Tomé este tour de snorkel con mi familia y la verdad nos la pasamos super bien. Somos locales y teníamos ganas de hacer algo así sin tener que ir muy lejos. Viviendo en Cancún, Puerto Morelos es una excelente opción.

Además el arrecife está muy cerca de la playa de puerto morelos lo cual te da más tiempo de disfrutar dentro del agua.

El club de playa de dónde sales está muy bien porque te incluye comida, bebidas, baños y el uso de las regaderas.

Sí recomiendo este tour tanto a locales como a extranjeros.